In my latest separator-free cells that use a PTFE o-ring spacer, I am now testing some additives to reduce dendrites and increase the life of the cells. A popular additive – PEG-200 – has proved not to be viable at a concentration of 20% due to large losses in the cell's voltaic efficiency, moreover PEG-200 at a concentration of 1% offers little protection against dendrite formation. This last experiment tried a PEG-200 concentration of 6%, coupled with a small amount of NaCl to attempt to increase the conductivity and compensate for the loss caused by PEG-200.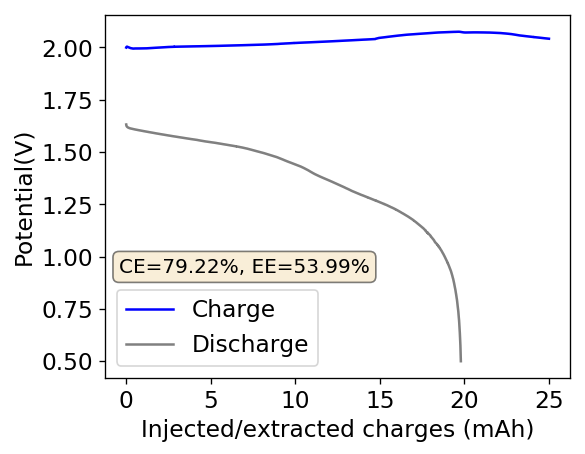 Above you can see the charge/discharge curve measured for this device. Compared to my previous devices the Coulombic and energy efficiencies have dropped significantly, with the most dramatic drop being in the energy efficiency. This value has dropped more than 10% relative with previous devices using a 1% PEG-200 concentration at the same zinc bromide concentration.
A device with this energy efficiency will not be viable, so I saw no need to cycle the battery multiple times. However to answer the question of whether zinc dendrites are formed or not, I then charged the cell a second time to 25mAh and opened the device, taking the picture of the anode shown below (I apologize if it seems out of focus, it wasn't very easy for me to focus on such a small amount of space with my camera).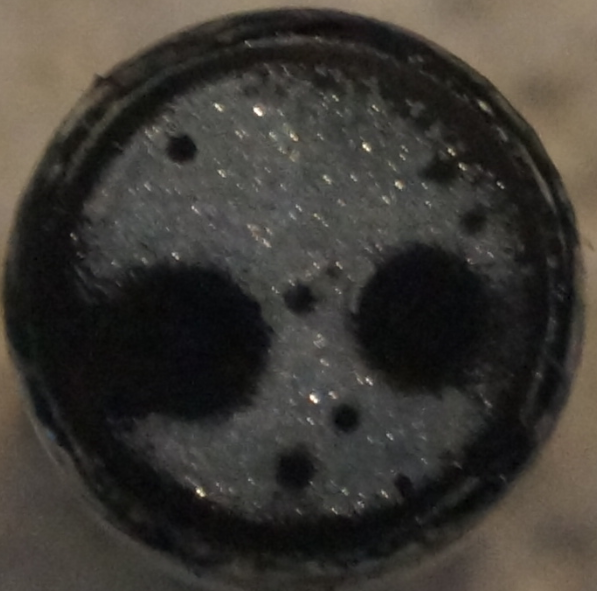 The picture above shows some interesting results. First, it was evident that there was absolutely no zinc dendrite formation, the plating was very crystalline and the electrode was flat with no protruding dendrites. Previous cells that had dendrite related failures show very tall dendrites that can easily be seen with the naked eye, even after only a few cycles. However you can also see several big and medium holes in the electrode where absolutely no zinc was deposited, this was caused by "air bubbles" trapped when the Swagelok cell is closed, which I haven't been able to find a method to consistently remove. These bubbles remove so much of the surface area of the electrode that they can be responsible for significant losses in voltaic efficiency. Pre-wetting the electrode seems to be a viable method to ameliorate the issue but isn't perfect.
In order to see if a cell like this can be viable, I am now testing a 6% PEG-200, 3M ZnBr2, 1.7M NaCl electrolyte, which should dramatically reduce the voltaic losses caused by the PEG-200 by increasing the conductivity of the electrolyte. Stay tuned for these results.