The initial tests using TMPhABr have been a complete success. A battery made with 0.5M ZnBr2 + 0.25M TMPhABr charged to 500 uAh and discharged to 0.5V was able to achieve stability past 100 charge/discharge cycles at 2mA and more than 100 charge/discharge cycles at 5mA. There was a significant drop in energy efficiency when going to higher current densities (from 75% at 1mA to 66% at 2mA) but overall the Coulombic efficiency remained high through the entire testing, at values greater than 90% and in some cycles greater than 95%. This was also all using a CC4 carbon cloth cathode, which means I made no effort to optimize the cathode at all. The cell showed a difference of around 50mg between the dry state and discharged wet state, meaning that overall it contained around 30-40uL of solution (I haven't measured the density of the ZnBr2+TMPhABr so I don't have an exact answer).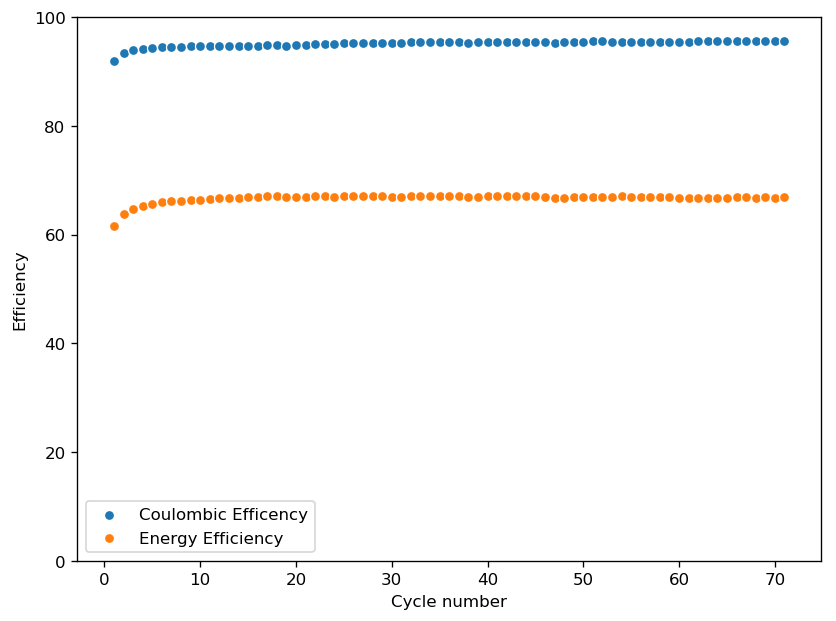 These results are extremely encouraging because they show that the TMPhABr is a way better behaved sequestering agent for bromide relative to TBABr. Most notably the tests also show a lack of performance degradation from Zinc dendrite formation, which was a big problem in the TBABr experiments. The charge/discharge curves are also significantly better behaved with a much longer and more stable "discharge plateau" which implies more stable electrochemical performance. There is also a complete absence of rare shoulders or spikes in the curve, which hint that important additional electrochemical processes are absent.
The CE and EE of the cell are always significantly lower when running the first few cycles, indicating that the formation of some surfaces or species is necessary for the cell to reach peak performance. This is likely due to the need for TMPhABr3-friendly sites to form, as the Br oxidation side is expected to be the rate limited process in this type of device. Since I'm using a Zinc anode, the formation of Zn nucleation sites is not expected to be significantly difficult.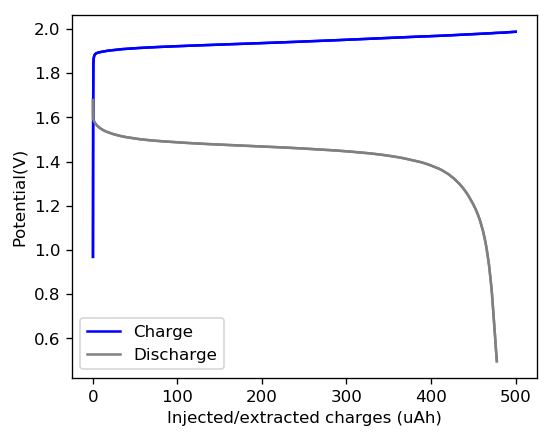 The biggest issue right now is that a cell like the above has a really low specific energy (around 2.8 Wh/kg), so a very substantial increase is required to make the above cell viable. I suggested some modifications in one of my last posts but it is clear that a cell with a ZnBr2 concentration lower than 2M is simply not going to be able to provide an adequate density. Given the solubility limitations of TMPhABr, we are unlikely to be able to achieve this using just a mixed solution of this sequestering agent and Zinc bromide.
My idea to solve this problem is to include a layer of solid sequestering agent in the battery and use a saturated solution of TMPhABr in 2M ZnBr2 as an electrolyte. The TMPhABr won't be dissolved right away, but it will be slowly transported by the Zinc Bromide solution as TMPhABr3 is deposited in the cathode of the cell. Hopefully the process reverses when the cell is discharged and we're able to get a cell that can successfully charge/discharge at high densities without the need for all the TMPhABr to remain in solution.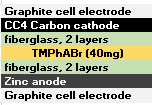 I expect that a cell like this will have way longer stabilization time – as the TMPhABr migrates through the cell and forms a stable structure in the cathode, hopefully without dramatically hindering its functionality. I also hope that the much higher ZnBr2 concentration won't increase the formation of Zn dendrites or that the formation of these dendrites will be curtailed by the presence of a TMPhABr solid layer at some point.
The above cell design is now in testing, so we should see if we can achieve charge/discharge cycles to 2000 uAh!