During my latest experiments, I have moved to an inverted geometry setup, given that hydrogen evolution is a problem that needs to be eliminated for cells that are expected to last for long periods of time. However, an inverted geometry carries with it the problem of more favorable diffusion of elemental bromine – due to the fact that the cathode is now on top – reason why aggressively sequestering bromine is now a top priority.
In order to do this I have been trying to use a TBABr saturated propylene carbonate (PC) solution (which I will be calling TBABr-PC). My expectation was that by soaking the cathode in this solution I would be able to prevent any elemental bromine formed from escaping. The TBABr-PC behaves a lot like an ionic liquid (it's > 50% TBABr) so its high conductivity and much higher affinity for elemental Br should allow the battery to work properly while keeping all the Br2 from reaching the anode or the aqueous electrolyte.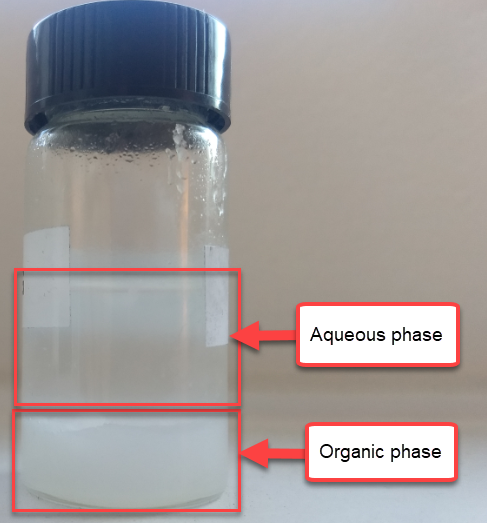 The problem with these initial tests was that the battery seemed to suffer from initially low conductivity and charge retention with substantial changes through time that appeared to improve on these parameters. My guess was that there was a lot of ion migration between the initial TBABr-PC and the ZnBr2 aqueous electrolyte and that the battery was just not stable while these were happening.
To solve this issue I prepared 10mL of 1.5M ZnBr2, 1% Tween 20 solution and mixed them with 2mL of TBABr-PC. The TBABr-PC was initially above the aqueous electrolyte, as expected from its lower density. After adding them together I then proceeded to mix them vigorously, which lead to the separation of two new phases. The PC phase now became denser, with the aqueous phase resting on top. This shows that there was some transfer of ZnBr2 into the PC solution, although thankfully the phases do remain immiscible.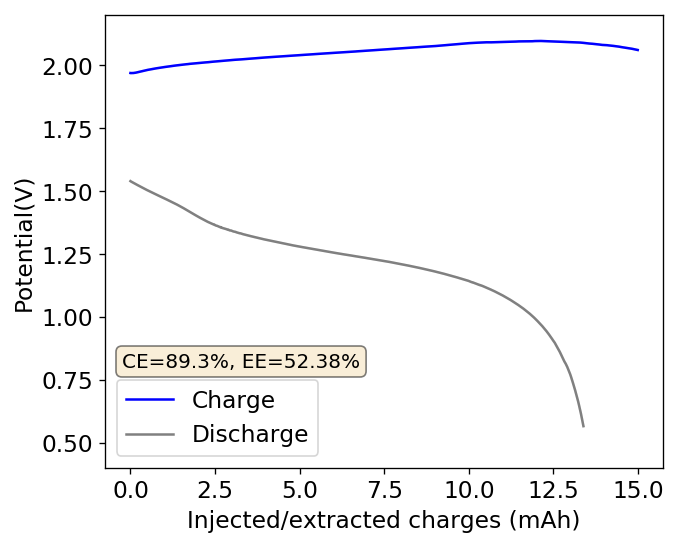 I then proceeded to fill an inverted cell with the top solution, saturated a GFE-1 cathode with the bottom solution and placed the saturated GFE-1 cathode on top before compressing the Swagelok cell. The cell had no separator but 4 PTFE o-rings as spacers. Since the PC had proved to have low conductivity before, I decided to cycle this device at 5mA to 15mAh. You can see the result of the first cycle above.
Although the CE and EE are now significantly better than before, there are still big questions about how a cell like this will evolve over time and whether the TBABr-PC is as effective at sequestering elemental bromine as I believe it might be. The fact that the organic phase is now denser also begs the question of whether the organic phase will just pool at the lower half of the cell with time. Hopefully affinity for the GFE-1 cathode is high enough. A potential solution to this problem is to try this experiment again with a 3M ZnBr2 solution, which is going to have significantly higher density.
I will first cycle this cell for some time to gauge its stability before running a self-discharge experiment to test whether the TBABr-PC does significantly impair self-discharge of the device.